Requesting Transit License Plates
Given the numerous administrative regulations involved, obtaining transit license plates is not an easy task and can be quite cumbersome (especially in light of the new regulations that have come into effect as of the 1st of May). We, at eCarsTrade, would like to facilitate the acquisition of transit license plates for our privileged customers and outline the process below.

The DIV, is the public service that is authorised to issue transit license plates. These plates are valid for a period of 30 days*.
To request transit license plates certain conditions have to be met:
Location of the entity or person

If you are a person, or you have a company, that is located outside of Belgium you are eligible to ask for transit license plates.

If you are located in Belgium you can, from the 1st of May, ask for transit license plates once a year.

Technical inspection of the vehicle

A transit license plate may be issued if you have a valid technical inspection which is not dated older than 2 months.
Note: If you need a new technical inspection, eCarsTrade can arrange this for you. We charge €200 for this extra service which includes the preparation of the car by our employees to pass the technical inspection).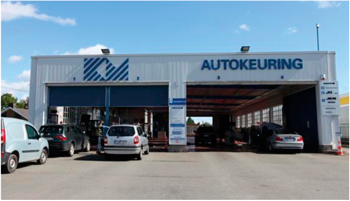 If for unforeseen reasons, the car proves to have some technical issues, we are happy to cover the costs (up to a maximum of €50). If the repairs are estimated to be higher, we will first contact you and ask for your permission. Should you wish for a technical inspection to be conducted, we kindly ask you to contact us, at least, 2 days in advance so that we may arrange the technical inspection on time.
You may also go take the care for technical inspection yourself. For this you pay the authorities (depending on the vehicle) approximately €80.
Procedure to request transit license plates:
When you request transit license plates, you have to go to the BIOS** Transit agency with the following documents:
Original identity documents
Documents of the vehicle
Valid car insurance (for more than 2 weeks)
Technical inspection Note
It is imperative that you arrive at their offices before 12h, so that you may receive your transit plates the same day. As eCarsTrade is a partner with the Transit agency, the plates will cost you €250 (instead of €275).
eCarsTrade can also get the plates for you. In this case, we go to the transit agency ourselves and order the plates for you. This will cost you an additional €50 (total €300). Note: The necessary documents must be dropped off at eCarsTrade before 9h45, at our warehouse, if you wish to receive the license plates the same day.
*In certain circumstances the period can be longer. For more information go to:
http://mobilit.belgium.be/en/resource/validity_periods_plates